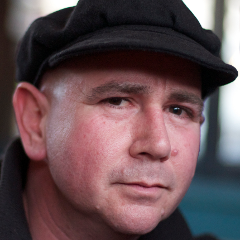 My name is Gold. It's not my birth name but it is my full legal name and was given to me by my social group. Basically I made my nickname my legal name. If you ever meet me in person, ask me about it. I have no issues telling the story.
Apart from 5 years in Sydney, Australia, Christchurch has been home for the majority of my adult life. However, since the February 22nd quake in Christchurch I've moved to Wellington. I had a trip up here planned for the first meeting of the Palmerston North Skeptics in the Pub. New Zealand SitP is something I started just over 2 years ago and the 6th branch is just about to get going in Hamilton. I'm aiming to be at the first meeting there too.
I was in Rangiora at my mothers place before heading north when the first 4 names of the casualties were released. Joseph Pohio was an old school friend who I still ran into occasionally and was one of those 4. I was surprised just how hard that hit me.
Anyway, in the months leading up to the quake I was getting rid of almost everything I own in order to travel for a bit. I was staying at a friends and everything I owned fit on a bike. After the quake, and the trip to Palmy, I found myself in Wellington with a job offer on the table from Sparks Interactive (they're hiring by the way, in-case you know Drupal) and given the fragile nature of the quake damaged infrastructure in Christchurch I figured not returning and adding the weight of one more person to that infrastructure was the responsible thing to do. Being in a position to be able to move easily and quickly was an advantage too.
I've been here for about 8 months now and the travel bug has kicked in again. Instead of just taking off though, I want to do something for Christchurch first. I figure this should be a good way to achieve both tasks at once.