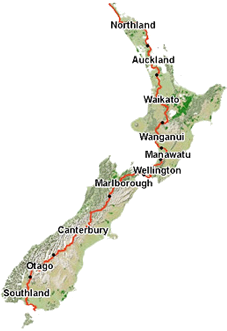 Update: Damage to a foot has me on a bike now. The trip will finish this year, but finishing the Te Araroa will, unfortunately, have to wait.
When I tell people that I'm planning on doing Te Araroa they find it interesting. Then they find out what Te Araroa is, just how long it is and how long it'll take and the questions really start to flow. So, the short version... Te Araroa is a 3000km trail that runs from Cape Reinga to Bluff. To make it a little less place name related the trail runs from as far north as you can go (without having to swim) to as far south as you can go (without having to swim). I'm planning on starting this around the New Year and will be starting down south and fleeing the cold weather. As for the "why?". There's a number of reasons why;
I'm wanting to travel a bit and there was an advertisement years ago that stuck. "Don't leave town until you've seen the country" was the slogan. I figure walking the length of the country would be the ideal way to manage that.
I'm doing this as a sponsored walk. I'm hoping to raise funds for a few charities as I do this with the support of a number of major sponsors matching the individual sponsors. I'm a refugee from Christchurch and have been in Wellington since the February quakes. I'm wanting to do something to give something back.
A friend from my high school days recently made an attempt at it and he's been an inspiration to me.
I've been working with computers for the last 15 years and I'm just starting to feel the first twinges of what I'm really hoping isn't

RSI

so I'm thinking the time away from a keyboard will give me a few more years.
A couple of friends have formed Lemur Attack Force and are doing the Mongol Rally next year and this and fueled my sense of adventure also.
I'm also jokingly referring to it as my mid-life crisis and that it's way cheaper than a red sports car. :)
An old school friend died in the Feb 22nd Christchurch earthquake causing me to reassess my myself and gave me the need to do something life affirming.
I'm 40 years old and want to tackle something major like this before my body makes it impossible.
So yeah, there's a few reasons to do this and all have contributed to the decision.